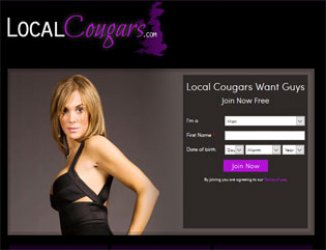 LocalCougars.com review 2021:
Over 45,000 singles are already registered at LocalCougars.com… Which isn't a terrible number but not great either. Membership is comprised of mature and older women looking for younger men… and vice versa.
The big focus is on finding someone locally, however this tends to be more the case in urban areas. Which means that you may be a little disappointment and have to look farther afield anyway…

LocalCougars.com: Finding Cougars in the UK
LocalCougars UK gets down to the basics and helps singles (usually younger men) who are looking for older women who are nearby. Like most online dating sites, those living in more populated areas are going to have a bit more luck – which means that for the most part you're still going to struggle to find cougars locally unless you're lucky to live in a particular city.
There are some rather explicit profile photos.
This is something to keep in mind when you first login… These older ladies are simply not messing around and some pictures can be quite explicit. In addition, we would advise: don't use LocalCougars.com at work!
What features does LocalCougars have?
Contacting, getting to know and dating other members on LocalCougars won't take very long thanks to the numerous features available that help you get to know others. Upon registering you will be asked to upload a photo, which you can do from your computer or even your webcam if you're feeling pretty enough right at that moment!
In the members' area there will be a panel of profiles that you can click on. "View More" lets you see what others are also hanging around! On most profiles, members will be rather specific about what they're into (adult movies, fetish clubs, sexual preferences etc.) so you get a good picture of someone before you even message them. Unfortunately there were a lot of empty and sometimes even fake-looking profiles, so be careful.
When it comes to contact…
On the profile: You'll see buttons such as "Yes", "No" and "Maybe". Selecting "No" will get rid of the profile and meanindicate that you have no interest… "Yes" displays your enthusiastic interest (making them more likely to contact you!). "Maybe" communicates that you're not opposed to getting the other user, but perhaps aren't as drawn in by them as a "Yes" would indicate.
Alternatively you can swipe on the profiles of people you like and determine whether or not you'd go for them (a mutual "yes" to a profile results in a match!). This "Encounters" function works almost like a conveyor belt and a mutual "Yes" on both accounts opens the communication lines completely.
Other communication features include simply sending a message straight away which is a lot easier for some people. A chat function also allows for instant messaging if both members are online at the same time.
You can see how many other cougars and singles have viewed your profile, and you can also search for members based on a list of criteria (age, distance, etc.). If you want more profile views, its also possible to add "Bolt on" features such as highlighting your profile.
Costs on Local Cougars: What do I have to pay for?
Setting up your profile, searching and finding out more about the cougars (and how local they are) is completely free. A diaries section allows you to read the personal blogs of others and this costs nothing as well. You can also create your own diary which will let others get a better insight into who you are. In order to be more active with communication though, you'll have to pay for a subscription.
LocalCougars.com - Costs:
Create a profile for free.
Subscription prices start from £7.50/month.