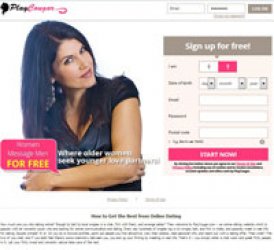 PlayCougar.com review 2021:
PlayCougar began in 2010 and is relatively new. Its focus is on younger men seeking older women, or vice versa. Another focus of PlayCougar.com is casual dating, namely: one-night stands and sex buddy-type arrangements. As a result, those seeking a more solid relationship may prefer to look to sites such as CougarLife. There also appear to be far fewer on PlayCougar, far less than 50,000 members.
Experience at PlayCougar
PlayCougar is a casual dating site that, obviously, is rather focused upon younger men looking for older women with experience, and vice versa. While the site is easy to navigate and the sign up process is relatively simple, the number of members might strike some people as suspicious. There seem to be a lot of profiles that are just too good to be true. If you decide to sign up to this site, it is a good idea to be careful.
PlayCougar unfortunately seems to have a lot more male members than female members. If you are a cougar, this is undoubtedly a good thing. However, male members will find that there appear to be slim pickings for them. When signing onto the site, you are only able to search within the country that you are located. This can be frustrating if you are abroad and wish to contact someone from home before you get back.
Features at PlayCougar.com
PlayCougar's communication methods and features are quite interactive. Not only are you able to send internal emails to other members, but you can also make use of an instant messaging system as well as the use of video and webcam. This means you can express yourself and flirt a lot more openly with your matches than simply through words. Communication with members en masse is also possible with message boards.
The PlayCougar Automatic Message Feature
Advanced search options on PlayCougar will allow you to seek out exactly the kind of person you are looking for. There are also matchmaking tools on PlayCougar, so this will help you when trying to find someone who shares the same or similar preferences as yourself.
PlayCougar.com - Costs:
Creating a profile after signup is free.
Women can send messages for free.
Prices for PlayCougar membership begin at

£

7.99/month.