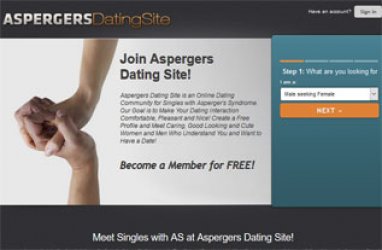 AspergersDatingSite.com
Meet Singles with AS at Aspergers Dating Site!
AspergersDatingSite.com review 2021:
Aspergers syndrome is little-understood by many people. For this reason, there are many singles who have this condition and find it difficult to make friends, let alone get dates or find a partner. This is where AspergersDatingSite.co.uk steps up to the plate and aims to help the 15,000 singles here who are looking for love.
Dating with aspergers doesn't have to be difficult, you just have to go about things in a different way. That's what this dating site aims for.
AspergersDatingSite.co.uk Login: Where to begin
When you login and sign up to AspergersDatingSite, it takes literally two seconds and you're in the internal members' area. So, you'll see a whole load of profiles but before you begin anything, it's recommended that you fill out your profile and make sure that you upload a good picture (after all, everyone likes a pretty face). Having a good representation of yourself is the first step.
Aspergers Dating Site Reviews: What you can find
In our reviews of Aspergers Dating Site it became apparent that there were a lot of singles who have this condition to some degree. For a few it was extreme, whilst others believed themselves to be somewhere on the spectrum. So, the site is filled with a lot of people who have understanding in this regard and are looking for a partner. However, friendship is also very much on the cards here if that's what you're looking for.
Is Aspergers Dating Site Free?
Aspergers Dating Site does have a few features that are free. Filling out your profile doesn't cost anything and you can take your time chatting and flirting with others in the chat room, which is a good way to build up a connection with someone. If you really fancy them, you can then start a private chat. Live webcams are also available for those who are brave enough.
When it comes to unlimited communication and seeing full-size photos, you will have to pay a subscription. There are different subscription deals as well depending on how long you want to use AspergersDatingSite.co.uk: these go from three to twelve months.
AspergersDatingSite.com - Costs:
Profile creation is free.
Subscriptions start from £24.90/month.