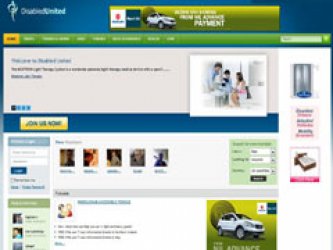 Disabledmate.com review 2021:
There are more and more disabled dating sites popping up in the UK… And DisabledMate is one of those that caught our attention. It appears to have around 45,000 members which really isn't bad and of course, everyone here is looking for love. You can also find people for friendship and other kinds of dating, however the focus is on singles who are disabled in some way: from hearing impairments to Asperger's.
Our Review of DisabledMate
When we did our review of Disabled Mate, we discovered that there is actually a very wide and diverse collection of singles and other users here. This dating platform is essentially a regular dating site, however everyone here keeps in mind that others have some kind of disability which will make some things difficult. In total, DisabledMate.com appears to be a place of acceptance for those who are looking for love, dating and possibly a life partner.
Login to DisabledMate: Features for Dating
When you login to DisabledMate for dating and connecting with others, it does appear that the features are a little Spartan. Don't let this discourage you, however, as there is certainly a buzzing community behind the façade. You then just have to write a profile… and the key here is to be detailed in what you create. You'll be surprised to find that there are plenty of options as well: free text fields to describe your personality, as well as the kind of disability you have and of course… the sort of person you're looking for!
What's also interesting is that there are videos which allow you to create a more interactive profile. So you can also look at videos from other members and get a better impression of them if you decide to eventually meet up.
Premium Membership on DisabledMate.com
If you'd like to take full advantage of Disabled Mate then you'll have to sign up for a premium membership. There are of course a couple of features that you can use for free and you can definitely try it out and enjoy limited communication. Full communication and extra features such as seeing who has visited your profile will require a premium subscription.
Disabledmate.com - Costs:
You can do a lot for free, including creating a profile and searching for singles. You can also enjoy limited communication and flirting.
For the full, unlimited experience especially when it comes to communication, costs for subscription start at £6.99/month.