One of our recommendations in the category
"Gay dating":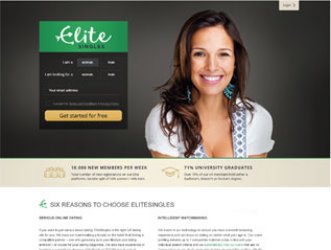 EliteSingles.co.uk review 2021:
A gay and lesbian online dating agency, EliteSingles.co.uk is focuses on matchmaking for LGBT singles. For gay and lesbian UK singles who are tired of casual dating and hook ups, and who're now looking for a serious partner to marry or share their life with, EliteSingles offers an alternative type of gay dating site. Over 30,000,000 members are registered on the platform and there are 18,000 new UK singles who join every day.
The Elite Singles Personality Test and Contact Suggestions
The specially-designed personality test that EliteSingles offers its members is one of its more defining features: it is helps in matching between singles. This test in particular was also designed with lesbian and gay users in mind and has been adjusted accordingly. Potential users must answer a questionnaire which will cover 29 personality traits. The algorithm then calculates these and the computer provides you with a small list of "contact suggestions".
In general, you are likely to receive around 9-10 contact or "partner suggestions" (also called "contact proposals) – each day. Some people might be put off and think that this isn't a lot, however quality is the main aim and not quantity: after all, most users are only looking for one partner on EliteSingles and therefore want to take their time before deciding. The fewer users you find, the stronger and deeper the connections you'll build and this is what will eventually lead to finding a serious partner for life.
ALSO USEFUL: Identity verification is also offered by EliteSingles. This appears on a user's profile in the form of a "badge" – so in essence, this will heighten the chances of other singles writing to you. Another bonus is that you'll encounter far fewer fakes – not that there are very many on the Elite Singles platform to begin with!
The Elite Singles App for the UK
The EliteSingles.co.uk app is also a handy service that this dating platform offers to all users, not just LGBT ones. You will receive your contact suggestions daily and will also be able to communicate with them, so you'll be constantly updated. However, it is recommended that when filling out the personality test you do it on the computer: that way you can sit down and take your time. Once you receive your personality profile… you can use the Elite Singles app anywhere!
EliteSingles.co.uk - Costs:
Take the EliteSingles personality test and receive partner suggestions for free.
In order to communicate with your matches, subscription prices begin at £22.95/month.