One of our recommendations in the category
"Gay dating":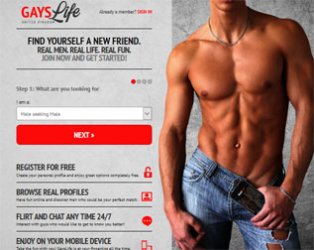 Gayslife.com review 2021:
Gayslife.com is a UK dating site specifically for gay men… while it is a lot smaller than a lot of other gay dating platforms out there, the members still seem very much focused on finding someone for a range of activities. This goes from friendship to romance to one night stands. With around 50,000 members, it seems to be off to a good start.
Gayslife.com: The Review
During our review of Gayslife we did find that the platform was somewhat geared more towards the concept of sex dating rather than singles looking for a life partner… although there were a couple of users here and there looking for something deeper and more long term. The vast majority, however, lean much more towards flirting and hooking up… which in and of itself isn't bad!
Login at Gayslife: What you can expect
When you first login to Gayslife offers a members' area that is full of profiles. And there are few fakes, as many of them seem quite genuine. Most of them have pictures (there are of course a few blank ones, but that tends to be quite normal!). A word of warning: some of the profile pics tend to be quite explicit, so maybe it's wise not to use this site at work!
Is Gayslife Free?
There are a couple of features on Gayslife that are free: communication through the chatroom is pretty easy and you can discuss a variety of topics with whoever is online at the time. It's also possible to upload photos so you can make a shiny new profile and show off what you've got! If you want unlimited, continued communication with members on a private basis then you'll have to pay a subscription.
In addition, premium membership on Gayslife.com means that you can see who's looking at your profile. There is also customer service available for any questions you might have.
Gayslife.com - Costs:
You create a profile and search for members as far and wide as you like, as well as use the chatroom.
If you'd like unlimited private communication with members then prices begin at £6.99/month.