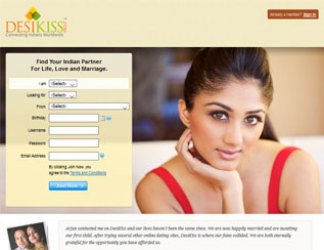 DesiKiss.com review 2021:
DesiKiss is an Indian dating site that is focused on Indians both in the UK and in India itself: while most of the contacts are local, you can also take a look at the roughly 10,000 members who're scattered all over the world as well.
Sign up and Login: Starting at Desi Kiss
When you first login to Desi Kiss there are some pretty strict guidelines about the photo you upload to your profile: your face must be visible, cartoons and other copyright images are not permitted and you mustn't have any obscene and/or explicit images. This helps to combat fakes and ensure that all users on the site are genuine.
You also need to be specific about where you live and can even pinpoint it on a map: this is to ensure that you get the most fitting Indian singles who're living near you.
Our Experience with DesiKiss: The Review
Once we'd set up a profile with DesiKiss, we decided to review things from the members' area onwards. As a dating site, the platform does seem a little sparse especially for one directed at Indian singles. Our experience was a little underwhelming however there are a few genuine singles who're looking for contact. Not all of them in the UK, though: there are many on DesiKiss.com who are living in India itself.
Dating on DesiKiss.com: Finding Indian Singles
One of the easiest ways to get chatting to Indian singles on DesiKiss was to simply go into the chat and see who is currently online. This depends on the time of day. Searches for singles can be done both locally and internationally.
To actually read all of your messages you need to become a "platinum" member. Other benefits include: being able to initiate chat conversations and use a more detailed search (hence allowing you to actually find more people with whom you have a connection). In addition, those who opt to pay will find that they get a much higher number of visitors to their profile on DesiKiss.
DesiKiss.com - Costs:
Signing up is simple, easy and free: however, there isn't really much else you can do after that.
Unless of course you choose to go "platinum" were you will be able to read messages, enjoy unlimited communication and advanced search all start from £10.21/month.