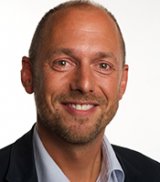 In 2008, C-Date launched the first casual dating portal in the English-speaking world to provide women and men with a platform for establishing no-strings erotic contacts. Meanwhile, casual dating has long been commonplace with C-Date being the market leader for the arrangement of no-strings sex. The company, headquartered in Luxemburg, has a staff of 140 that take care of over 40 million members.
In view of this proud journey, we were very excited to have a first look at the eyes of C-Date founder Heinz Laumann. Would he do everything the same again?
With us, women in particular find a safe environment to talk about eroticism and meet great men.
---
Heinz Laumann, we conducted our last interview exactly five years ago. So it is time for an update. In the meantime, the no-strings sex dating scene has certainly changed a lot, hasn't it?
Yes, you could say a lot has changed. What once began as a niche is now used by a large number of the online daters. Our casual dating site has established itself as a new dating arena and is a lifestyle trend for women and men. C-Date is the undisputed market leader in all its undisputed markets, which reflects the popularity of this product in numbers.
What were the greatest highlights for C-Date between 2010 and 2015?
There have been many highlights in the past five years, but if I could choose three then they would be the following: We have cracked the users in the UK with the one million mark. In Austria, Germany and Switzerland we will break the million mark over the next few months. This means that in the last five years, over six million people have opted for casual dating - this is a fantastic number, which I couldn't have predicted five years ago.
In face of impressive figures, we tip our hat! By what highlights can they be rounded up - or better, rounded off?
The last highlight was not long ago: on September 10, 2015, we at the headquarters of C-Date invited press to a "Behind the Scenes" event. Journalists had the opportunity on this day to look at the daily business at C-Date closely. I answered all the questions, critiques and insecurities about casual dating. This has been very well received by major media entities.
And the biggest challenge which you had to master with C-Date?
One of the biggest challenges was and still is to separate ourselves from affair dating and the many immoral dating portals. C-Date is casual dating.
C-Date could in principle also be advertised in the early evening program after the sandman comes, right?
On C-Date there is no call to have an affair, in fact: the opposite. Above all we give women a safe environment to talk about eroticism, meet great men and find casual dates. So it is always very important for me to emphasise the boundary between affair dating and casual dating. Especially if adult dating is negatively portrayed in the headlines. Recently, it was again the case.
You probably play on the data hack at AshleyMadison and AdultFriendFinder the two (previously) biggest portals for adult and affair dating. To what extent has the - uninvolved - casual dating scene suffered from such incidents: did you have to react with C-Date to isolate yourself from these vendors?
We responded by inviting journalists to join us instead of sealing ourselves off from the public. In our "Behind the Scenes" event, journalists were given answers to all their questions and were then able to understand C-Date correctly. It was hard work, but a lot of fun, so the experience was positive. For all people to whom I explain the concept of C-Date, they come off just as enthusiastic as I am. C-Date is finally a platform for singles and couples looking for no-strings attached sex.
Casual dating has long been out of the shame-zone of what is only "behind closed doors". With C-Date, you can talk about TV commercials or ad campaigns in women's magazines to an audience in the "middle of society". Why is demand so lively? Have we all mutated to singles and just want to have sex without relationship because it's easier?
Sex without relationships existed before as well. Today women and men are just more aware of the lifestyle. Casual dating reflects the impulse of the time. We are in a fast-paced world with less time and with the focus on career. We have become a mobile society whose needs we must serve differently than before. That is why C-Date has come up with a product which precisely covers this change in society so the market can develop successfully.
You often hear words of sincere sympathy from gay men that heterosexuals are not open or relaxed about sexual affairs alongside year-long marriages and relationships. Could this also be a wish from your mouth so that C-Date is the obvious offer in helping with the development of fulfilling sexuality for everyone, including women?
C-Date goes exactly in this direction. Whoever has a profile on C-Date is on the right track to living and experiencing fulfilling sexuality. Because we have so many members, gay men will no longer have to pity the straights.
For a few years now some affair dating sites and cheating sites have mixed with the casual dating scene. Are these vendors focusing on secrecy and fraud competition for C-Date?
No, C-Date is aimed primarily at single women and men who live their sexuality blatantly and do not focus on secrecy and fraud. Thus, we serve a completely different audience. The industry does not see any parallels between C-Date and affair portals, it is a completely different business model and therefore also no competition. Of course these portals damage us, because they now describe themselves as casual dating and want to jump aboard our bandwagon. It's a bit annoying, but you can't describe it as competition.
How is the "casual dating classic" positioned? Are you deliberately differentiating yourself from the affair specialists when it comes to image advertising? Or is C-Date more like a big roof under which all types of erotic affairs -secret and open- can take place?
We are completely separated from these portals. Well over 70% of registered users at C-Date are single. The conscious decision of casual dating is not "secret", but for those who live it, it is anonymous and discreet and that is a big difference and shouldn't be changed.
In 2008 you started with C-Date and are currently the market leader for casual dating. Give us just a small, compact overview: how many members of C-Date in the English speaking world registered since founding, and how many are still active?
The UK currently has over three million members, Switzerland is over 1.3 million and Austria is more than 900,000 members. We currently have new registrations of approximately 25,000 users per day worldwide and a very active community that is growing steadily.
In how many and which countries is the portal now represented, and where does C-Date celebrate its greatest and most spectacular success?
We are represented in 16 countries, and funnily, we celebrate the greatest success in the conservative markets. The UK included. As a founding market, we are the undisputed market leader and continue to expand our supremacy through a long-term brand strategy. This is how our customers can rely on C-Date, in the largest "lake" according to your desired partner to "fish".
Casual dating is deeply anchored in many cultures, but it is only now perceived as a lifestyle trend.
How do you explain the particularly strong popularity in the top countries?
On the one hand, you can simply feel the sign of the times in these markets. On the other hand, it is also the fruits of our professionally executed marketing strategy which makes this popular. Casual dating is deeply anchored in many cultures, but it is only now perceived as a lifestyle trend. There are countries where this happens fast. It's normal over there to jump into bed on the first date. For this there is now simply a platform which replaces the "booty call" of late nights.
C-Date has the credo "high-standard erotic meetings" and conveys discreet erotic contacts. How do you manage it to manufacture such a level on your portal? Is it possible from the side of the administrator to ensure that members behave decently?
On C-Date it is clear from the beginning what it is about: style, level and eroticism in symbiosis. The product is also high-priced, which leads to only people with serious dating intentions being able to register with C-Date and enter the premium area. So you can explain why the level at C-Date is very high and appealing.
Men who are searching on casual dating platforms like C-Date sometimes whine about how few answers they get. Although they proceed according to the snowball principle and send dozens of contact requests, they just don't get into a conversation. What are these men doing wrong?
Everything you can do wrong. A woman wants to be conquered, offline and online. A copy-paste principle does not work in any sphere of life, especially not when it's so obvious that the same message has been sent to a dozen other women.
The men have to go into the profile of the woman and mention the smallest details. So they show that they have interest in sex with exactly this woman and not just in sex par excellence. Or would men feel honoured when they receive such obvious copy-paste messages? Not me anyway.
And what is your most important recommendation for women so that C-Date will be a pleasant and effective experience for them?
Women must be open but true to themselves. She just has to trust herself and get involved in casual dates, although she does not know exactly where it will end according to the saying: "Everything is possible, nothing is necessary". From many women we have heard that it works best with nice and pleasant casual dates.
Fakes are more or less everywhere in casual dating, that you agree. What specific measures are taken at C-Date to curb the emergence of fake profiles and protect members from fraud?
Fakes or scammers are not only present in casual dating but on all dating sites, even with Parship or EliteSingles, to name a few. With us, we are masters of the situation. On the one hand, we have our own software solution which immediately identifies and deletes these members. On the other hand, our community is so strong that these profiles are reported immediately, and with one click! So we can keep our service very intimate. In addition, we have each photo and every free text of our users checked manually by our experienced customer service team.
So you have developed a very peculiar method for C-Date to ruin love-scammers' joy of fraud and to prevent the rip-off of large sums of money. Through algorithms, you ensure that fraudsters on C-Date only chat with other fraudsters. Quite entertaining, this performance. But how do you identify a love-scammer at all? Is there any technical means?
We have developed our own software for this purpose, which is self-learning. This software monitors the activities of all users in our community and can recognize things very quickly if they are scammers or fakes. These profiles behave differently to our casual daters in many ways.
These days when catchphrases like fakes and fraud are making the rounds, image management regarding "clean sex dating" is certainly in the interests of the providers. How does C-Date approach this topic?
As mentioned above, we limit ourselves very actively in the communication to the outside from all immoral affair dating sites. In the service, our customers also recognize very quickly how pleasant our community is and how safe it is for woman and men here to get erotic contacts. This is the recipe for a sustainably good image.
We at LeadingDatingSites get a lot of direct feedback from users, naturally regarding C-Date. This ranges from questions on suggestions for improvement to personal experience reports. How much does the top management of C-Date get from the bottom rungs?
I sit with all my employees in a large open-plan office. Every morning there is an update throughout the office which also communicates customer feedback. I meet with our customer service team each month to see a cross-section of the atmosphere in our community.
In addition, I have a personal C-Date profile and test our product in order to constantly improve it. With it I am extremely close to the customers, which is very important to me. The customer/user is our king, and the king isn't happy, it deprives us of the foundation for our business.
Now the crowning question: would you do everything the same for, with and at C-Date?
Yes, I would. By founding C-Date I have revolutionised the dating market and created a way for users to experience sensual, erotic meetings of a high-quality level.
A wonderful conclusion! Dear Heinz Laumann, thank you very much for the exciting insights into the casual dating culture! We wish you and C-Date many exciting years!
---
Similar interviews to "C-Date.co.uk":