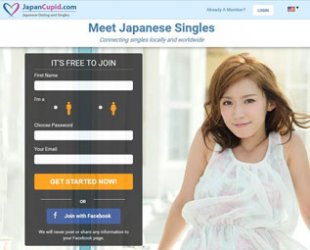 Japancupid.com review 2021:
Welcome to JapanCupid, the niche dating site from Cupid Media which focuses specifically on singles who are interested in finding Japanese partners and lays claim to 30 million members. Whether you are Japanese yourself, live in or outside Japan, have Japanese heritage or simply have an affinity for all things Japanese, JapanCupid.com is the place for you.
JapanCupid originally began 2005 as one of the many niche dating sites that Cupid Media runs. The dating site also works as a matchmaking site, so singles will be able to find a partner based on specific criteria that they have set down on their profile.
Sign In at JapanCupid.com
As with a lot of dating sites from Cupid Media, the sign in to JapanCupid is pretty standard. All you need to provide is an email address, a new password and your name and then you can login. You will then get an email confirming your registration, which you have to click on in order to use the site. Once there, you will be able to browse through the different singles and see who takes your fancy.
It is important to remember that a lot of the users on JapanCupid are located in Japan, or may at least be quite far away. It is therefore a good idea to consider a long-distance relationship, especially if you happen to live somewhere like the United States. Of course, one may be lucky and find a partner right on their own home turf.
Features on JapanCupid UK
JapanCupid has features like a comprehensive search engine which will allow you to look through the profiles. You will also encounter users in the UK who have not necessarily signed up to JapanCupid, but who are in the Cupid Media database due to having signed up with a different site. Keep this in mind when searching.
JapanCupid also has an instant messaging service, the ability for users to send emails and is available in several different languages. These include French, German, English, Japanese, Dutch and Korean. If you want, there is also the possibility of using vide to communicate. There is also a 'Show Interest' feature which you can use in order to flirt with other Japanese singles.
Account Upgrade at JapanCupid.com
A paid account is necessary in order to use certain features, like messaging. JapanCupid has two types of account upgrade. These are Gold and Platinum, Platinum coming with more features than Gold and boosting your visibility in the search rankings. With a free account, however, you can take a look around and see what features you like before making up your mind.
Japancupid.com - Costs:
Create profile and search for free.
Full membership costs from £7.50/month.