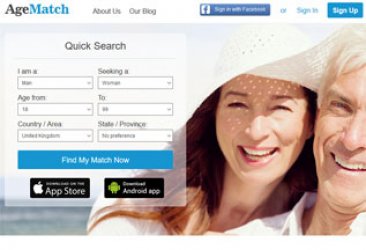 AgeMatch.com review 2021:
AgeMatch is a somewhat unique site in that it caters to a rather wider audience… There are older singles looking for younger members and vice versa. This is a phenomenon known as "age gap dating". However, there are also many who are interested in people for themselves, rather than how old they are. So a lot of singles are rather indiscriminate!
We counted around 1,000,000 singles here.
Agematch.com Login: Where to begin
So after you login and set up a profile, AgeMatch will provide you with a few features to help you get to know members. You can search in the normal fashion (manually, that is), but if you're lazy then you can let the computer suggest people to you. This is done through a "swipe" feature… simply click on it and let the profile come up. If you like it you can either say "Yes" or "No", either by swiping it away left or right.
Mutual likes will open up a communication channel and give you something to talk about. Which isn't bad, however this is only one method of getting to know people. This is because AgeMatch operates somewhat like a community. There are blogs and forums that discuss the topic of dating (sometimes "age gap dating"). So getting involved is another way of learning more about members and possibly finding a date!
Go Mobile on AgeMatch: Is there an app I can use?
Most dating sites have a mobile app and AgeMatch is no exception. If you want to flirt on the go, then all you need to do is download the app for either iOS or Android. With it, you can even search for singles who are nearby which makes things a whole lot easier if you're about the town. In that sense, you never know who you may bump into!
Our Agematch Reviews: What we discovered
Although Agematch is very much a dating site, through our reviews we found that there are many people who are simply looking for friends. Or even companionship: this doesn't necessarily mean that they're looking for something romantic. However, a lot of singles on this platform tend to be somewhat open so… You'll probably have a lot of luck!
Dating on AgeMatch.com
Dating singles on AgeMatch is relatively straightforward… though due to the age gaps themselves, its's probably a good idea to consider that there will be differences in mentality. Since this platform has something of a community feel, there is no doubt that you'll need to take a bit of time getting to know singles. This is honestly the best way of gearing yourself up for that first meeting… and there's no telling what surprises may come out of it!
AgeMatch.com - Costs:
To simply browse and even use the swipe feature (fantastic for discovering new profiles you otherwise wouldn't stumble upon…), you don't pay a penny.
If you want unlimited flirting and communication, however, subscriptions begin at US$15.99/month.