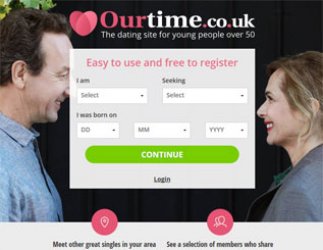 OurTime.com
The Dating Site for Young People Over Fifty
Link: www.ourtime.com
OurTime.com review 2021:
OurTime.com belongs to the Match Group, which has a database of over 4,000,000 UK members. This platform is aimed at singles over 50 who're looking for friendship, companionship, dating and more.
The idea behind Our Time is simple: people over 50 may not meet people the way they did when they were younger. Therefore, a new way of meeting others needs to be used and this is exactly where they fit in.
Login and Sign up to OurTime
When you sign up and login to OurtTime, you can either do so on the homepage or you'll get help from their virtual assistant, Julie, who will walk you through the steps. Afterwards, you need to answer a number of questions based on your preferences. This isn't completely mandatory however it is a good idea if you want to get partner suggestions based on what you're looking for!
Features on Our Time
When being "matched" up with other singles on OurTime, compatible profiles are usually put together based on preferences that the user has written into them. As such, it is important to be truthful about what you're looking for. That way you'll get more accurate matches and people you actually want to meet, be friends with and possibly date. A list of matches will be provided to you on a daily basis as well.
Alternatively, you can just search for singles, read their profiles and see if anyone stands out. The "Are You Interested" feature lets you swipe through singles' profiles so you can indicate whether you like them or not and then start a conversation – another good way of getting to know people. Other useful features include…
Highlighting your profile in the search results. Which means more people will see you and visit you.
Get a notification every time someone reads a message – so you know the other party is still interested.
See who is interested in you or "liked" your profile.
OurTime.co.uk: Senior Dating in the UK
Dating over 50 can be daunting for some people, so OurTime.co.uk aims to give mature singles in the UK an easier time of chatting and getting to know other people. The aim is to get out there and meet people and this done with the many events that Our Time offers. Events can include things like simple meet ups, weekend getaways for groups, afternoon tea, cultural outings and much more.
Older singles on OurTime are a diverse bunch. Some are divorcees, some widows, others are looking for a new partner. Quite a few are also looking for new friends and contacts, and the platform seems to be quite conducive to that. In addition, you can also benefit from manually approved profiles. So, members of staff will check profiles to see if they're real which is a huge relief to anyone who wants to avoid fakes.
Dating Everywhere with the OutTime App
OurTime lets you enjoy dating on the go with an app that can be downloaded for both Android and iOS. It means that you can check your notifications regularly even if you're away from the computer, and more importantly pretty much reply to messages all the time (so it's quite handy for flirting, chatting if, for example, you're in a waiting room somewhere).
OurTime.com - Costs:
With the chat room, you can flirt and have conversations for free. Basic search also lets you find people near you, free of charge.
If you'd like to make a deeper connection and get unlimited messaging then prices for subscription begin at £6.99/month.