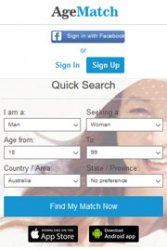 AgeMatch App review 2021:
AgeMatch.com has naturally brought out a dating app in order to keep up with the competition. Its focus is on dating older men and older women – and now singles can do it on the go! Whether you're a younger woman looking for an older guy or an older woman looking for a younger guy, age is but a number here with over 1,000,000 members.
Mobile Dating: Login with the AgeMatch.com App
As we saw, mobile dating with the AgeMatch app was easy after download for iOS and login. The app is quite simple AgeMatch focuses on "age gap dating" where older men and women are looking for younger singles to date. In essence, this particular dating app focuses on the fact that age is little more than a number and is therefore not a factor in choosing a partner. The app is available for iOS.
With over 1,000,000 members, the service offers singles the chance to connect with others and look at Daily Moments. Dating here can be for fun or a lot more serious: it's up to you and the potential partner you choose to deal with. It provides you with an overview of members, giving you the ability to put all your details on your profile. If, for example, you have already set up an account with Age Match then all you need to do is sign in to your account. You'll already have it up and will be able to start chatting and flirting with others.
Here you can download the AgeMatch App at iTunes.
AgeMatch App Review: What we found
During our review of the Age Match app, we discovered that there were singles of all ages who were looking for someone specific… namely, older women and older women. Many fell into the senior dating category, but others were interested in finding someone with a bit more maturity and life experience. In this sense, members here were incredibly open-minded.
What features does the AgeMatch App offer?
On the AgeMatch app, you can discover new singles by swiping through profiles. If you see a profile that you like (usually, you'll just be shown their profile picture and a small snippet of information about who they are) then you either tap the heart icon or the "X" depending on whether you like or don't like it respectively.
You can also have a look at Members Daily Moments which is a great way of keeping up to date with what's going on… and of course finding new singles to chat to. The app also lets you reveal your location, so it's pretty handy if you happen to be travelling (and you'll be able to see what others are also up to and where).
AgeMatch App - Costs:
Downloading the app is completely free and you can take a look at new members and Daily Moments.
In order to enjoy unlimited communication, prices for premium membership start at US$15.99/month.