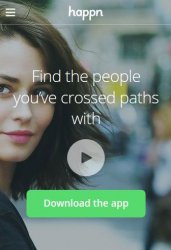 Happn App
Find the people you've crossed paths with
Link: www.happn.com
Happn App review 2021:
Happn is a new dating app that is a little bit unique. Beginning in 2015 and coming straight out of France, the app already has well over 500,000 downloads and is popular bothin the UK and Germany. London alone boasts 250,000 members and 140,000 in the rest of the country have already signed up. The app can also be purchased for either an iOS or an Android system.
Working a lot like Tinder, Happn does take a slightly different approach by looking for matches who are close to you (using your phone's GPS, which some may find a little creepy).
In its basic operation, Happn is very much Tinder but with a slightly different approah. Your matches are severely limited and only come from your immeditate geographic proximity. It works off your phone's GPS system which, admittedly, is not the most comforting of ideas...
The main point is that unlike Zoosk, some people may find this a quirky and fun way to date and others may find it too unsettling.
Login to the Happn App
There's no doubt that Happn's features are similar to Tinder's: upon getting a match, you simply "like" them by pressing a blue heart. The real difference here is that the geographical range is rather limited: only 250 metres. When your "Crush" (match) occurs, you can either pass or accept. Acceptance opens communication.
"Charms" are also possible and can be sent to matches. This sort of bypasses the blue heart feature. It basically sends an invitation to your match to speak to you, regardless of whether or not they've liked you as well.
RATHER INTERESTING:
Your nearby matches are not only shown on the app, but you'll get notifications regarding the people who have passed you by throughout the day (if they, too, have the app). Saw a cute girl on the train? Too shy to speak to the guy in the supermarket? Happn gives you a reason to speak to them!
In Conclusion...
France has advertised this app quite well and it seems to fit in our dating apps category. There is a considerable amount of potential on Happn, or so we think, but it is a little too similar to Tinder. This is something the app needs to be careful of if it wishes tom make progress in the UK.
Happn App - Costs:
Happn is free to download and use.
Charms, for women, are also free.
Men, however, must pay £1.49/credits.