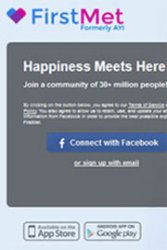 FirstMet App review 2021:
FirstMet, formerly AYI, has been revamped… and it's not half bad!
Beginning as a humble Facebook dating app in 2007, FirstMet.com has now grown into a mobile app with more than 30,000,000 users. Don't worry if you have an old AYI account, you can still use it!
The main aim of FirstMet is, unlike Tinder, to give adults a low-pressure way to meet new people.  Although aimed at singles 35+, you will still find a lot of younger people on it as well!
Login to FirstMet
Users can register and login to FirstMet via Facebook. This of course means that you don't have to spend a lot of time creating your profile or thinking of something clever to write. When you first sign up, you also choose which gender you're interested in so you can find the right matches. Users can also sign up the old-fashioned way through email… however…
…you will be invisible until you post a profile picture!
Don't forget to put up a few interests as well. If you don't have mutual Facebook friends to connect you with other singles, then you'll be given matches in accordance with corresponding interests.
FirstMet in the UK
A lot of the profiles on the UK version of FirstMet come from Facebook. Quite a few appear to be active, but overall it's clear to see that there is a large number which have simply been left over. There is still a lot of potential for UK singles to meet someone with the app, though it may take longer than Zoosk, for example!
FirstMet.com: Mobile App vs. Desktop
There really isn't much difference between the app and desktop versions: one is just naturally more mobile! Both Android and iOS users can download it onto their devices and start making connections straight away. The general functions of FirstMet.com operate quite smoothly in mobile as the overall design tends to be clean-cut and minimalistic, therefore getting right down to the point.
Features for Establish First Contact
FirstMet has made contacting other singles incredibly easy. There is an "Are You Interested?" feature where "matches" will be proposed to you, based on your location, mutual friends and interests. However, there is a filter available which allows you to screen out people in accordance with various factors (age, distance and ethnicity). All you have to do is click "Yes" or "Skip" on proposed profiles.
If you click "Yes" on a profile (which you can look up before you make your decision) then a contact proposal bubble will appear with a space that allows you to write a message. Don't know what to say? Not a problem! FirstMet provides you with first message suggestions such as:
How tech savvy are you?
Do you believe in love at first site?
Do you enjoy cuddling?
Would you consider sleeping with someone on the first date?
OK, admittedly some of the questions can be a bit strange for a first message, but they can get the creative juices flowing and provide ideas. Once you've written your message, simply click "send" and off you go!
The Icebreaker message…
…is another handy contact feature that FirstMet offers. At the side of the swipe feature is the Icebreaker, which proposes another list of general questions and conversation starts: all you need to do is click on a question such as "Is someone's astrological sign important to you?" or "What do you like to do on Saturday night?". These can also help to start conversations!
Once you have established contact with someone, you can chat via the instant messaging service.
FirstMet Premium Services
There is of course far more to FirstMet than just establishing contact. Members who choose to upgrade will get a variety of features available to them. For example, you will be able to see what friends you have in common with your matches, read all of your mail and even unlock your messages in your matches' inboxes. You can also see who viewed your profile.
If you happen to have any problems, premium FirstMet.com members can avail of top-notch customer service!
FirstMet App - Costs:
Download, registration and sign up are all free, as is instant messaging.
Extra features, includingd unlimited messaging, start from £7.50/month.