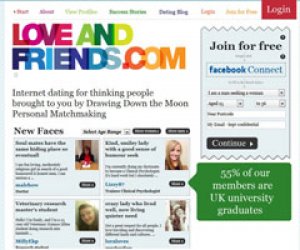 LoveandFriends review 2021:
The main aim of LoveAndFriends.com, operating since 1999, can be seen in the name: it is for those who are looking for a partner or even a friend or companion. LoveAndFriends proudly proclaims that it is a 'nice' dating site, as opposed to casual or adult dating sites where people are mainly looking for hookups.
LoveAndFriends claim that 55% of their users are graduates, hence the slogan. LoveAndFriends states that there are around 300,000 registered members. In our test, though, we counted a lower number than that.
LoveAndFriends.com Login
The login process at LoveAndFriends is quite detailed. You can choose to do so either by creating your own account or signing in with your Facebook page. You have to fill out your profile in the traditional manner that includes a description and a photograph, but there are further steps:
Fill out your interests.
The LoveAndFriend Compatibility Matching Test: This in-depth personality test, consisting of around 100 questions, shall help you receive more suitable match suggestions. This test is geared towards finding a romantic partner rather than friends.
Additional private information.
If you choose LoveAndFriends, the login process will be one of the most important aspects. Make sure to be as accurate as possible, as this is the best way to find suitable matchers.
LoveAndFriends in the UK and Beyond
LoveAndFriends is primarily a UK dating site. They also serve Ireland, although you will not be restricted from joining LoveAndFriends if you do not live in either of these countries. They prefer not to restrict themselves to any one particular place, so there is a chance to meet international contacts.
Features on LoveAndFriends
Just some of the LoveAndFriends.com features include a forum with various subsections so you can discuss various topics with other members. There is also a dating blog and not only will you receive match suggestions, you can also search for people yourself. You can also send messages and upload photos onto your profile, add people to your favourites and put members in a 'sin bin'. Should you want to check your account on the go, LoveAndFriends also has a mobile-friendly version of the site.
For some of the more advanced features on LoveAndFriends, there is a full member subscription service. With this you can enjoy unlimited communication, see who has added you to their favourites, perform an even more detailed search and have your profile promoted in the search due to better visibility.
LoveandFriends - Costs:
Free membership allows you to post your profile and do searchs.
Unlimited communication starts at £59.95/6 months.