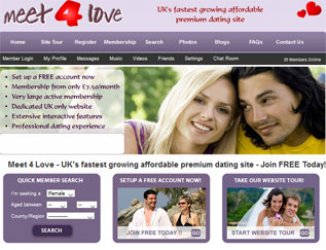 Meet4Love.co.uk review 2021:
Meet4Love.co.uk describes itself as a "traditional" online dating site – and it's aimed at everyone, regardless of age so there is a lot of diversity on this site! Although it does seem a little dated, the platform is quite active with 60,000 members.
Our Meet4Love Review – What's it all about?
We took some time to review Meet4Love.co.uk carefully… As there is actually quite a lot here. Singles on this platform come from all over the UK. They are also on various wavelengths… There are older people who are looking for a companion in later life, busy professionals who just don't have the time to get out there and meet someone – and there are even students and much younger people who are also searching on Meet4Love!
Communication over the platform can be done through Meet4Love's chatroom, which is where you can meet many of the singles and get to know them. There are also community forums where you can discuss numerous topics – from love and romance to television and big ideas.
Login to Meet4Love: How does it works?
Before you login to Meet4Love, you have to wait for your profile to be approved. This means that you must upload a photo and make sure to fill out the details you want. Your profile, apparently, will be approved manually… so make sure to impress! This is actually a good sign as well because although it takes longer, it does mean that there are probably fewer fakes running around.
Dating on Meet4Love: Finding that special someone
Meet4Love is not just about dating, although this is the main point that a lot of singles here focus on. Some are indeed just looking for friendships or want to "see where it goes"… So naturally, there are numerous features that help you get to know others. These include an internal messaging system for private mail and video profiles – to make your profile stand out all the more!
And there's more to just videos… you can also create a beautiful gallery of pictures to show off your best sides. And of course, take a peek and see what other members also have to offer!
Meet4Love.co.uk - Costs:
Signing up, creating a profile and a gallery of pictures is free.
For unlimited communication, prices for subscription start at £7.50/month.