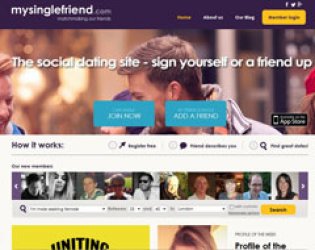 MySingleFriend review 2021:
MySingleFriend.com takes a somewhat unique approach to online dating. Describing itself as a social dating site in some ways similar to FriendFinder, it was founded by TV presenter Sarah Beeny who was known for her talent when it came to fixing people up. Claiming roughly 200,000 members, MySingleFriend is a place where you can post a profile for a friend. You then write a description of the friend in question, they approve it and it goes live. This unique social dating site has been going since 2004.
Sign in to MySingleFriend.com
You can sign in to MySingleFriend and create an account for yourself, using that to recommend either a friend or yourself (they acting as 'wingman', or vice versa). You then write a description about them, and they add to it. Users can also set up a single profile and get a friend to write on it later. When signing a friend in, you will give both your email address and theirs. You can also add multiple friends.
When signing up, you will have to answer five 'quick fire' questions. These are random and are multiple-choice such as 'Cat or Dog?', 'Book or Kindle?' or 'Tea or Coffee?'. You can get the computer to ask you another one if a question doesn't suit you.
MySingleFriend Connecting Singles in the UK
Primarily focused on the UK, MySingleFriend is available in most places and the search feature enables you to easily take a look at who is both near and far. This social dating site isn't just confined to the United Kingdom, though. You can also search for singles in the Republic of Ireland.
Matching With the MySingleFriend App
For those on the go, MySingleFriend is also available as an app. Singles can use the app to swipe across profiles and choose one that catches their eye. As a wingman, however, you can use the Veto function which can help you to advise your friend from choosing a specific type of single. There is also Customer Service available to all members for both app and web versions.
Is MySingleFriend Free?
You don't have to pay straight away when you sign yourself or a friend up to MySingleFriend. Once you have created a profile, you can use both the quick and advanced searches. You will get to receive messages and see who they're from, as well as have your profile visible to others. As a free member you will also be able to view different profiles and add them to your Likes section.
For those who decide to subscribe, you will be able to read the messages sent, reply to them and send your own. You can also chat to the other singles. If you want, you can give a gift subscription to a friend as well.
MySingleFriend - Costs:
You can sign up for free.
Unlimited communication starts from £18.88/month
We've all got a single friend!