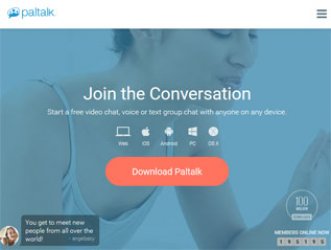 PalTalk.com review 2021:
At PalTalk.com, singles in the UK can get together to flirt and chat with one another. Quite international, there is a database of 4,000,000 users. Dating is very much possible on this platform although it is not the only thing users are after.
Free Download: Login to Paltalk.com
In order to login to PalTalk, unlike a lot of other dating sites, you have to download it either as a mobile app or onto your desktop/laptop. This doesn't take very long and, once you have done so, you simply sign up the normal way using your email address and password.
When you sign in at PalTalk.com, you'll find yourself in the members' area. Immediately, you'll see a list of "trending" videos that show members who are currently online. Home brings you to your profile where you can see the details you entered, and add or remove more as you feel necessary.
PalTalk Review for the UK
It seems very much that according to our review, PalTalk is very much focused on interactivity. UK singles are brought away from the typical kind of flirt and chat site where you see a static profile and instead can see who is running about the site in real time. There are numerous methods of communication from regular, text-based chat to videos. There are also various chat rooms where you can do more than just talk about dating.
In particular, there is a focus on crystal clear quality on PalTalk.com that allows users to really experience one another. There is also no pressure to meet up which, for women, could be a particularly useful experience.
PalTalk Messenger: Features for Flirting and Dating
Beyond the main communication methods that PalTalk Messenger offers, various features for dating are available. These include the likes of virtual gifts with which you can flirt with people, as well as the ability to see who has visited your profile. And of course, handily enough, you can save users to a friend's list in order to keep in contact with them.
A number of premium features are also available on PalTalk to enhance the experience. This includes being able to have several chat windows open at once, better quality audio and video, participating in several rooms and a special badge which makes you stand out as a VIP.
PalTalk.com - Costs:
Downloading the PalTalk Messenger and signing in is completely free. You can also chat via text and video with other singles.
For true interactivity and unlimited communication, there are a number of offers you can get with a premium membership. These start from US$3.99/month.