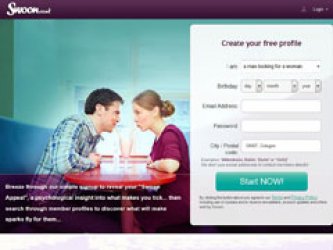 Swoon review 2021:
Swoon.co.uk is something of a general dating site, and at the moment claims around 1,600,000 registered members. The aim of Swoon is to help people get to know others in their local area and possibly find a partner. What is interesting is that they have teamed up with a relationship expert and life coach, Trevor Sylvester, to give his valuable input and advice.
Swoon Login
When you login to Swoon.co.uk your location will automatically be added, which is useful. The login, as they state on their landing page, is quite simple and this is true. Of course you need to fill out various pieces of information (your age, preferences etc.), and answer a few questions. This is to find out your Swoon Appeal and ensure that you get the right matches.
Swoon Features
You will receive Daily Top Matches on Swoon.co.uk, though do not have to stick with them solely. You can also use the search features in order to find more singles. Other features include a forum, so you can go on to find out more and discuss things with other members. Should you find someone you like, make sure to throw them an Icebreaker.
As well as being able to put up photos on the site, you can also record a video of yourself. A nice little touch that they have is a number of games that you can play whilst browsing Swoon. You can also add people to your favourites list.
You will receive 6 free Icebreakers every day. You can get unlimited Icebreakers if you subscribe. Other benefits include being able to receive messages as well as send them, use the Swoon instant messaging service and receive priority customer support. Swoon Chat can be downloaded onto your Windows PC if you wish to have it running.
Swoon - Costs:
You can sign up and search for free.
To use Swoon effectively, full membership starts from £13.99/month.