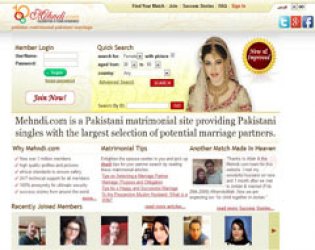 Mehndi.com review 2021:
Mehndi.com is the number one site when it comes to Pakistani dating. Boasting over 3 million registered profiles, Pakistani singles will not be disappointed. The primary focus of Mehndi.com is marriage: it therefore styles itself as a Pakistani matrimonial site. Although people of all religions are welcome to join, the main religious focus here is Islam.
Mehndi.com has been operating since 2004 and has a number of success stories to show for it. With various tools and a website available in four languages (English, Arabic, French and Urdu), you will be one step closer to finding matrimonial bliss.
Login to Mehndi.com and Take It From There
When you login to Mehndi, you need to go through the basic steps of filling out your profile. In the tradition of Islam, it is also possible for users to create a profile for their relatives. Mehndi also promises the 100% anonymity of its users, so you have little to worry about when it comes to privacy. Therefore you can make sure to be as accurate as possible when you login to create your profile. 
Experience and Use of Mehndi.com
Mehndi can be used quite easily. You can do a quick search in order to see who is around, or who may be nearby. If you wish to know when the best time to be on is, there is a small checker on the website which shows, for example, how many females are online at that time. An advanced search will give you much more detailed and accurate results. Another useful thing is that...
...there is also the auto matchmaker which can further pinpoint the best matches for you.
For those who are curious, profile visitors will be shown, you create a 'new contacts' list, upload pictures and 'show interest', a feature which can help to break the ice before you message someone. All members can reply to messages as well as opt for 'Hide Profile', a feature which allows you to go off the radar for a while.
If you have any problems or issues with the site, don't be afraid to contact Mehndi's technical support team. Available 24/7, you can rest assured than any issues you have will be taken care of as soon as possible.
Premium Functions and Features at Mehndi
Mehndi already offers a lot of features for Pakistani singles when it comes to free membership, but paying can give you a few extra perks which will help to improve your overall experience. Premium members can send messages and even send special 'E-cards', virtual greetings cards which can add a personal touch.
There is also a Live Chat option for those who do not want to have to keep messaging back and forth. You also do not have to worry about auto-renewals: if you sign up for 3 months, you will be charged for 3 months and then return to free membership unless you wish to extend it. If you wish to enjoy improved rankings and visibility, you can go for the Featured Member option. These features cost extra and there is only a limited number of places, so sign up quickly.
Mehndi.com - Costs:
Create profile and search for free.
Full membership starts from US$10.83/month.
The Featured Member Profile starts from $3.25/day.