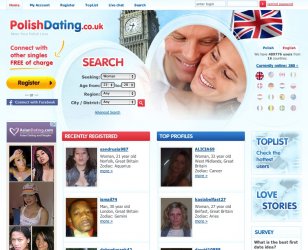 Polishdating.co.uk review 2021:
PolishDating.co.uk began in 2007 and is now considered one of the main Polish dating sites in the UK. It aims to bring Poles living in the UK together for not only fun and dating, but also for those who are looking for a long-term partner or even someone to marry. Since its founding, PolishDating has seen over 700,000 registered users.
PolishDating Login
Although primarily aimed at Polish people, PolishDating.co.uk has a website that is available both in Polish and English, though it usually shows up in Polish by default. You can switch the languages quite easily. When you login, you will see a number of singles who are currently online as is shown by a meter.
Is PolishDating.co.uk Free?
Creating a basic account on PolishDating will be free, and you can add people to your address book/contact list, as well as add them as a friend. It is also possible to favourite singles that you want to contact later. It often helps having a little reference list when you see so many people you fancy!
PolishDating has a grading system: The score that you give is calculated with all of the other ones and an average is found. This score is then shown on your profile. Most definitely, this is an incentive to conduct yourself properly when online! Though remember, before you grade a profile, you have to upload a picture! It is also free to ask questions.
If you wish to break the ice with Polish singles, simply send them a smile or a kiss. Make sure to do this sparingly, however. If you want to tell the world about yourself, you can contribute to your own blog which is posted on your profile.
PolishDating Chat
If you wish to use the Live Chat feature, you will need to have a Premium account. The same also goes for sending and receiving messages. Premium accounts at PolishDating will allow you to ask questions that are of a more intimate nature.
Another aspect of PolishDating is that you can get a VIP membership which affords you certain privileges. VIP members are shown in the Toplist and anyone is able to respond to their messages or chat. Your visibility will also be increased, hence leading to more dates. If you're feeling generous, you can give another the gift of a Premium membership.
Polishdating.co.uk - Costs:
Create profile and search for free
A Premium Account costs from 

£14.99

/month