Your question:
Is singlemuslim a scam?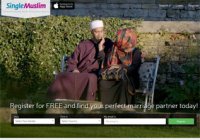 Our answer:
Not a day goes by when you don't read about some new Internet scam. So, it is only natural to be weary of websites that are not that well known. Maybe you have only heard about singlemuslim.com (or in the UK: uk.singlemuslim.com), and you would like to know if it is real website or a scam. We've got an answer for you.
Singlemuslim is not a scam but a legitimate business
Singlemuslim is the world's leading Muslim marriage site. According to their website, singlemuslim uses modern technology, coupled with Islamic principles to help find the ideal Muslim marriage partner. Singlemuslim is growing rapidly and has enjoyed substantial coverage in the media. The site is free to try.
Although it's not a scam, be cautious
If you are single and part of a particular religious group, such as Islam, finding a compatible partner in the UK can prove to be difficult. As is with any website that you come across online, it is always best to be a little cautious. There is no guarantee that every member of singlemuslim is honest. There may even be some who might try to scam other members, but that is true for almost any site on the Internet.
"Singlemuslim" and our test result