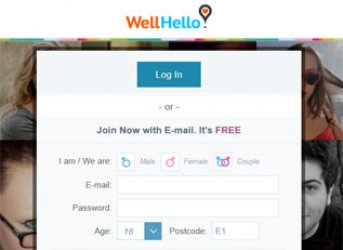 WellHello.com
WellHello Your Fun Dating, Hookup and Swingers Site With Style
Link: www.wellhello.com
WellHello.com review 2021:
WellHello describes itself as an "online adult community" for meeting both singles and swingers. So, in this sense it is rather diverse – you can find a one night stand, a casual relationship or even something long-term (if you're open to that). With around 10,000 users, the choice is there. All kinds of tastes and orientations are also catered to here, so it's not a specific "straight" or "gay" swinger and sex dating site.
Well Hello Login: How does it work?
When you first login to WellHello.com, you can sign up as either male, female or a couple. This makes the site perfect for swingers. It is, however, quite good for those who are just looking for a one night stand or something in the area of casual dating. You can also change your preferences later if you like, so it's up to you.
WellHello Review: What you see
We took time to review WellHello and see what singles, couples and swingers on this site were looking for. The members' area is indeed quite full: there are plenty of pictures and some of them are quite explicit. Even without uploading a photo, chat windows will start opening up from women who want to talk to you. Be wary of this: there could be a few fake profiles planted in order get things running at the start (though this is also pretty normal for most dating sites…)
The idea behind WellHello is also that people of all genders, orientations and sexual preferences can join. So, if you have any particular fetishes or kinks, you can even detail them in you profile. This makes it easier to find someone who is looking for someone with matching preferences (and you can search for men, women or couples).
Is there an app for WellHello?
At the moment there doesn't appear to be an app at all. However, there is a mobile site. This means that singles can simply log into WellHello on their browser and start using it. Of course, the mobile version is going to be a little more limited at least outlook to the regular one.
Other Features on WellHello.com
WellHello offers decent features for communication, including an instant chat for when you're online and the ability to send private messages. You can add people to a "Friend's List" and this will make it easier to keep in touch. Although it claims to be a community, there is less of a community "feel" to the platform which is a pity.
In addition to normal messaging, there is also video chat if you're brave enough. But you don't have to stick with this either: members can also hide their private pictures and only exchange them with those they want to. So you can be as explicit or as discrete as you like!
WellHello.com - Costs:
Signing up and having a limited view of profiles is free.
If you want to enjoy features such as seeing photos and unlimited messaging, then upgrade prices start from their "Best Value" subscription at US$9.99/month.