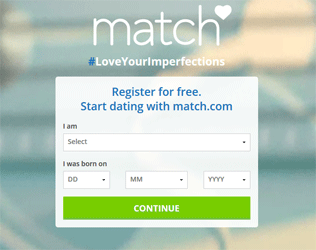 Match.com international review 2021:
Match.com International began in the 90s and is considered to be one of the world's most well-known sites for singles. It began in the USA and went online in 2001, within a couple of years was also taking the UK by storm, before moving on to the rest of the world. Since its opening, around 60 million members have registered on the site as well as 450,000 in the UK. For those who are interested in the finer details, we have a much more detailed review of Match.com here.
Match.com: Login
Login at Match.com doesn't take long and you'll be on the starting page in no time. Various features will be shown, including the ability to pick favourites, instant messaging, winks, your emails, your views and –most importantly- the Daily 6. This particular feature shows you six matches. Using this page, you will also be able to easily change your preferences.
Match.com UK: Is There a Search Function?
Despite the name, Match.com UK is more of a dating site than anything else, akin to Zoosk. Which means that you can search! Of course, matching does occur and there is no harm in paying heed to the people who are suggested to you. Your matches will also be updated on a daily basis and, with such a wide variety of people to choose from, there is no doubt that you will see new people every day. This counts for the search aspect and the match aspect.
In the Face of Problems at Match…
…don't forget to contact Match.com's customer care! All you need to do is go onto the 'Help' section. Most questions will already have been answered. Of course, strange particularities do show up now and then so you may want to speak to someone in person. There is also a Contact Us section which will allow you to send an inquiry to the service team. Make sure to use this only if you have a legitimate question.
Match.com international - Costs:
You can create a profile and search for free
Full access to all features from £14.99/month
Match.com's TV ads