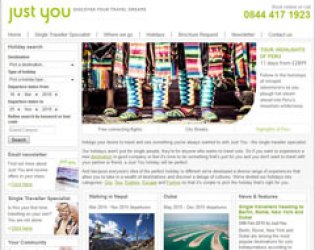 JustYou.co.uk review 2021:
Without doubt, Justyou.co.uk is the UK's number one for single travellers. Full stop. Just You belongs to the Page & Moy Travel Group, a trusted and respected tour operator with over 50 years of experience in organising fantastic escorted tours. More than 5 years ago, they focused all their experience with single travellers and created the Just You company. They offer worldwide holidays exclusively for single travellers but without the usual single supplements! Already they have satisfied over 150,000 customers with their excellent services.
If you're looking to meet someone in a very different way, then JustYou can bring you on the adventure of a lifetime!
JustYou.co.uk: The Brochure and Features
The JustYou site and its features are very much like a brochure, offering a wide range of different trips and holiday deals. Information is easily accessible: there is a phone number straight away in the top right hand corner! Don't forget to 'Discover Your Next Holiday' either: there is a search option where you simply type in your desired destination and the type of holiday you would like.
If you wish, you can also request an actual brochure from JustYou. There will even be explanations of the different types of holiday, what destinations are hot (and cold!), as well as a newsletter for those who like to keep up.
JustYou Holidays
The actual journeys trips you go on are divided into various categories. Some of the types of holiday include "Active" (for sporty people), "City" (for those who want a quick break), "Explore" more suited to the adventurous among us), "Festive" (party animals, of course!) and "Escape" (all those who want to sit under new skies). On average, there will be around 20-30 people in your group. Gender ratios can vary, though there are generally more women on singles holidays.
Those going on holiday can choose to book either online or simply ring JustYou up. Having these options is often better for people. While online booking is certainly convenient, it is also great to have the option of actually phoning up a real person and asking them a question!
The JustYou.co.uk Community
The JustYou.co.uk Community exists in the form of a forum, so you can sign in and participate in discussion. If you have any issues or problems, do not forget to take a look here. You can get friendly advice from other customers or even get in touch with your tour leader if you have any issues. There is also a Community Editor at hand who can steer you in the right direction.
JustYou.co.uk - Costs:
Prices obviously vary depending on where you want to go and what you want to do.
You will have to pay a booking deposit, and this also varies.
Deposits generally start from £170.00.