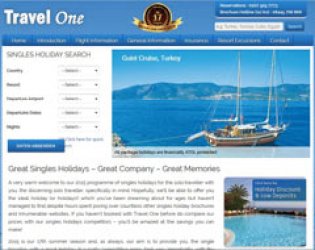 Travelone.co.uk review 2021:
Like many operators in our singles holidays category, Travelone.co.uk focuses on providing you with an enjoyable holiday and the possibility to meet someone new. Beyond this, there is also the possibility of adventure, which is a truly exciting concept. TravelOne has a huge range of different destinations, you'd be a fool to not at least take a look! Age-wise a lot of the singles who go on these holidays tend to be above 30.
TravelOne.co.uk Offers
Destinations that TravelOne offers include places like Turkey, Bulgaria, Madeira and even places beyond Europe. You could end up in India or Morocco, depending on what you fancy. On their website they state that all Travel One holidays are ATOL protected (by the Civil Aviation Authority). Another thing to also keep in mind is...
...a Holiday Price Guarantee is also available, where TravelOne will actually match the price of a holiday if you find a cheaper deal. Not bad!
What is Included in a TravelOne Holiday Deal?
When you book a holiday through TravelOne, the service will cover: a return flight, baggage allowance, transfer to and from hotel to resort (where applicable), accommodation and meals, obligatory taxes, the ATOL fee, services offered by the resort, air passenger duty and VAT in EU countries.
If you have any more questions about what is and isn't included, you can take a look at the website under "General Information".
TravelOne.co.uk: Hotline and Customer Service
Single travellers who have any questions or concerns can call the TravelOne customer service or "brochure" hotline. What is particularly nice is that it is open 24 hours a day, so you will always have someone there to answer your query.
Travelone.co.uk - Costs:
When booking, you will need to pay a deposit (which varies depending on holiday).