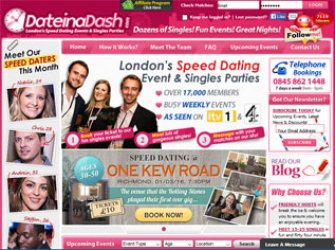 DateInADash.com review 2021:
Launched in 2011, DateInADash.com is a speed and blind dating event organiser that focuses on professionals living and/or working in London. Having had over 18,000 customers and performed over 1,000 events over the last few years, DateInADash already enjoys a rather good reputation when it comes to speed dating.
Speed Dating Events by DateInADash
DateInADash, at its core, provides traditional speed dating events for professionals within varying age ranges. These are usually specified depending on the type of event that is being thrown. Usually between 10-20 guests will appear on any given night. Each "date" lasts 4 minutes, with 1 minute left for you to write down your notes on the other person (choices are: Yes/No/Friend).
Two people who write "Yes" for each other will be matched. Matches are provided by email within 24 hours after the event. If you happen to receive no matches, however, you will be given the opportunity to attend another DateInDash event. That's quite a deal!
DateInADash.com: Meeting New People
Events at DateInADash.com are not just about finding love. Indeed, many people end up making good friends at such events (whether male or female), which is often great for individuals who don't often have the opportunity to meet someone.
Besides regular speed dating events, DateInADash actually provides a host of others which focus on meeting new people. These include their Elite Speed Dating, for professionals with a salary of 35k+. Other themed events include Asian speed dating, gay speed ddating events, "Ditch or Date" (a gameshow-style dating activity) and even pub crawls for singles. As well as this, there are quiz and comedy-themed nights.
Booking at DateInADash
You can book your tickets at DateInADash by telephone through their website. You can also take a look at the different events that are on at the moment, where they are and if there are any free places. The itinery is also regularly updated and events can end up getting filled fast, so make sure to be quick!
DateInADash.com - Costs:
Ticket costs depend on what sort of event you wish to attend.
For example, regular speed dating is usually £10/ticket.
Events such as singles' parties will usually cost £18/ticket.