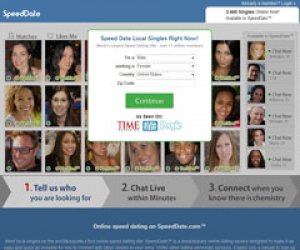 Speeddate.com review 2021:
Founded in 2007 by two Stanford graduates, Speeddate.com is the first online speed dating site aimed at those who wish to get to know someone quickly. This dating site currently boasts over 11,000,000 members all over the world and is for literally everyone. There also appears to be a decent number of users online: the last time we checked, it was around 4,000.
Speeddate.com: Login
There are no bells and whistles when you login to Speeddate.com: just fill out your profile, upload a photo and you will be chatting within minutes. Regarding the search option, you can cast the net as near or as far as you wish. The principle is quite basic: state what you're looking for, login and start chatting live.
This quick service is what attracts many singles in the first place. Speeddate.com is also available to connect with your Facebook account, if you want to enjoy more convenience.
Speeddate.com App for Android
Speed dating shouldn't just be confined to the comfort of your home. Speeddate.com also offers an app for Android, so you can take your speed dating experience with you. It is also available on iOS. A geolocation tool will search for nearby matches in your current area. Should you have any issues with the app or other functions, do not be afraid to contact Speeddate's customer support.
Delete Your Account at Speeddate.com
If you connected to Speeddate.com via Facebook, it is easy to delete your account. Login to your Facebook profile, go to applications and then check 'Apps You Use'. Click the cross on the right of the row and then click 'Remove' to confirm. This will remove your account from the list completely.
Other Useful Features on Speeddate.com
Speeddate.com doesn't just offer speed dating in its purest form: singles can use various features to enhance the experience. A Best Matches section picks out singles who suit your preferences, and the Speedflirt feature allows you to flirt with them instantly. You can also wink at others in order to break the ice and get a conversation going. If you choose someone as a Favourite, they will see it. Likewise, you can see who fancies you in the Likes Me section.
Don't forget to upgrade for the best Speeddate.com features. By subscribing, you will be able to contact everyone you wish, send and receive instant messages, show up first in the search results and even receive priority customer service. This isn't even mentioning the webcam features, which allow you to experience a five minute, online speed date from the comfort of your own home.
Speeddate.com - Costs:
Sign up won't cost anything
Premium Access will begin from US$12.95/month.