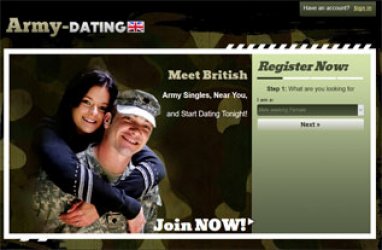 Army-Dating.co.uk
Meet British Army Singles, Near You and Start Dating Tonight!
Link: www.army-dating.co.uk
Army-Dating.co.uk review 2021:
At Army-Dating.co.uk there are a number of singles who're looking for a special type of uniform dating… that's more to say military dating! With around 10,000 members, the numbers aren't big, but this platform is more specific and for people who know what they're looking for.
How does login work on Army-Dating?
When you first login to Army-Dating.co.uk, you'll be urged to fill out your profile. This means writing a description and putting up a catchy headline. You can also upload photos and even videos… so if you're not that shy, you can record yourself. And of course, this means that you'll be able to see clips made by other members as well, which is useful.
After login you can also search for members… Whether this be through their basic search function or via Advanced Search. With this, you can search by screen name, location, interests etc. It'll provide you with a much more exact result and allow you to find individuals who naturally suit your preferences.
Our Review: What's on Army-Dating
The vast majority of singles on Army-Dating, at least according to our review, are those who serve or who have served in the military. Interestingly enough, there is also a large number of people who're interested in dating military singles in the UK as well. This probably boils down to the fact that some may see it as an exciting job whilst military personnel themselves need to find a partner who understands just how difficult the job can be.
What kind of features do I find on Army-Dating?
Army-Dating has a number of features that allow you to get to know others. One of the best ways of encountering different people is to use the chat room… which also even offers live cams. Of course, you don't have to use this and can also just stick to text chat if that's what you prefer. In addition, you can also send private messages even when people are offline.
Communication is therefore done in a number of different ways and allows for a steady flow of conversation. Singles are also online at all times of the day, so you can go on whenever to get chatting and use other features on Army Dating to get to know them.
Army-Dating.co.uk - Costs:
Signing up and creating a detailed profile of yourself and your person costs nothing.
If you want to enjoy unlimited communication then prices for subscription begin at £6.99/month.