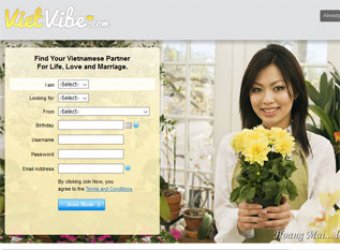 VietVibe.com
Find Your Vietnamese Partner For Life, Love and Marriage.
Link: www.vietvipe.com
VietVibe.com review 2021:
Vietvibe.com is an Asian dating site that focuses on dating Vietnamese singles. It is part of World Singles, with around 16,000 members. So, if you're interested in singles from this fascinating and beautiful country, you'll find a start point here.
The VietVibe.com Review for the UK
It didn't take long to review VietVibe for the UK and see what it could offer singles here. In many ways, it is an international dating site and one where you can meet people from all over the world. There were a small number of Vietnamese singles in the UK, however if you're looking for someone in particular you may want to expand your search criteria beyond the UK.
Mobile on VietVibe: Is there a Vietnamese dating app?
VietVibe.com can be used on mobile devices but as far as we could see, there was no app for this Vietnamese dating site. While it is a little inconvenient, it is still possible to use the site from most devices and you can chat with people whether you're on a smartphone, tablet or just a laptop.
Dating on Viet Vibe: Features for Singles
When it comes to discovering new singles for dating on VietVibe, it works very simply: you can take a look at the photo slide show where you will be shown photos from random singles on the site. You simply then click and state whether or not you'd be interested in them… and then perhaps strike up a conversation.
Alternatively, users can also use a simple or advanced search option: you're able to search for others internationally. If you like, you can check out Online Now and see who's currently online… This is also a good way of getting to know people and see what's up. Of course, you can also send private messages to any users you fancy.
VietVibe.com - Costs:
Creating a profile is free, as well as searching for other members.
If you'd like to enjoy unlimited communication, read all messages, see who has read your messages etc. then prices for subscription start at £10.22/month.