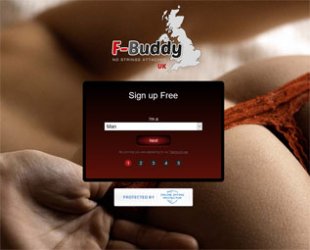 F-Buddy.co.uk review 2021:
Are you looking to hookup with someone with no strings attached? Well, simply login to F-Buddy.co.uk. F-Buddy claims the fastest growing sex dating site in the UK. The three-year-old site is the place for finding someone for sex without all the baggage that normally goes along with a hookup. It is therefore an adult dating site for those who simply want to kick back and enjoy themselves. F-Buddy is run by Global Personals, which draws from a databank of at least 4.5 million members.
Unique Features on F-Buddy.co.uk
When you come across F-Buddy, you will find a lot to read through on the front page. You get the impression that a lot is happening here. One cool feature of F-Buddy is their "Dating Diaries" section, which allows members the chance to share their feelings and thoughts with other members. Much like a social networking site, you can follow interesting members and read their posts. What is also handy is that you can easily upload photos via your mobile phone.
There are also other interesting features available:
On F-Buddy you will also find a handy local search feature. The aim of this is to bring you to people who are as close as possible. Being able to do a local search will save you a lot of time. Be aware that a lower population will mean fewer contacts to be found in your area.
Do not forget to check out the video profiles. Members can record and then upload a video of themselves, explaining what they are looking for and more. This can be great because you can get an even better impression of a person before meeting them.
While it is all well and good to send and receive messages, and indeed this is a vital part of any dating site, sending and receiving winks is also an integral part. These are fun little features that will allow you to wordlessly flirt with others. Seeing a profile that you like, and that fits to your tastes, can be difficult if you don't know what to say at first. This is where winks can save the day.
F-Buddy.co.uk - Costs:
Free for women.
For men: creating a profile, uploading a picture, searching and sending winks are free.
Men's full membership starts at £15/month.