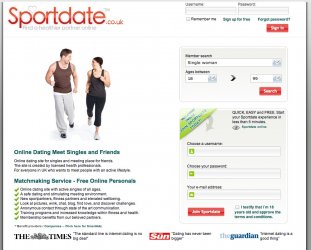 Sportdate.co.uk (DEAD) review 2021:
SportDate.co.uk is a very particular kind of online dating site. From the name, one can gather that the matchmaking and online personals service offered here are focused on those looking for a sporty partner. Of course, you don't just find potential partners here. There are also fitness instructions and training programs as well as information on exercise. So:
If you're looking to be fit, healthy and in love... SportDate is the place for you.
In total you will find around 46,000 active singles registered. The ratio of men to women is also pretty impressive at 48 : 52. Designed by licensed health professionals and sports fanatics, you're not going to be disappointed.
SportDate.co.uk Features
Aside from training programs and exercise information (many of which are done in the form of regularly updated blogs), SportDate also hosts other dating site features. You can make your own blog and publish it publicly. Singles and other members on SportDate alike can chat with one another (anonymous contact is even offered for those who may be a little shy).
SportDate.co.uk Members
Not all members on SportDate are looking for love. Some are just seeking a training partner. It should be wise to say that there a coupel of fakes here too, so that is something members ought to watch out for! There are some great people here but it is always a good idea to keep your wits about you.
While you can sign up to SportDate as a free member, you will have only limited use of features. For full access, you'll need to pay a subscription.
Sportdate.co.uk (DEAD) - Costs:
You can sign up for free.
You can get full access from £4.00/month.