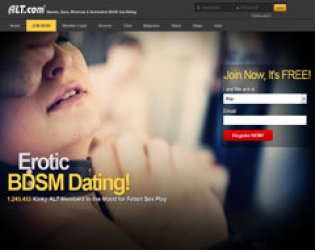 ALT.com
Master, Slave, Mistress & Dominatrix BDSM Sex Dating
Link: www.alt.com
ALT.com review 2021:
It could be said that ALT.com, owned by internationally recognised FriendFinder Networks Inc., is one of the ultimate sites when it comes to fetish dating. For both singles and couples who have specific interests, ALT can serve to bring you into contact with others who have compatible desires. Whether you are into swingers, BDSM, bondage or any other type of fetish and sex dating, you will be sure to find someone among the millions of members.
On average, around 1.2 million appear to be online every day. Already founded in 1996, it is clear that ALT.com has been leading the way in fetish dating for a long time. There is no doubt that you will find something here, whatever your kinks may be.
ALT.com Login: Features
When you login to ALT.com, you can choose to do so as a man, a woman or even a couple. This depends on what you are looking for. There are also blogs that have been written by other members, so you can read other people's experiences of the site. There is a wide range of other features to be found at ALT.com. Messaging, chatting and webcams are all available on the fetish site.
It is also possible to look through members videos. There is an interesting option when it comes to showing off or decorating your profile. The 'bling' options, which are little virtual badges, can be used to display your personality.
ALT.com Support
While ALT.com is not aimed at beginners, there is a lot of information and support on this sex contact site for people who may be interested in learning more. Indeed, those who want to explore fetish dating can easily create a profile and read through blog posts and comments in order to get an idea of what the lifestyle is like.
With members who have all kinds of fetish interests, beginners can take comfort in the fact that there is something out there for them. Another nice touch is that...
...upgraded members can also take advantage of around-the-clock phone support.
ALT.com Silver vs Gold
When you sign up, singles and couples have the option of choosing a free membership or paying for Silver or Gold. Silver and Gold memberships bestow better features on your account. Gold members can view and contact others, will appear in the top searches and have full access to groups and videos as well as phone support. Silver members are a little more limited, though they can contact others, view them and enjoy ALT.com phone support.
ALT.com - Costs:
You can create a profile and search for free.
The full membership with access to all features starts from US$14.27/month.