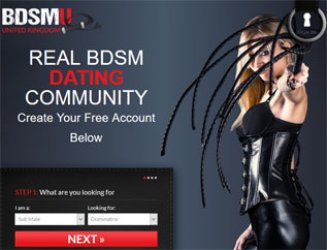 BDSMU.com review 2021:
For kinky UK singles, a good BDSM community like BDSMU is a place designed for those who are interested in find like-minded individuals who are into the same sexual practices as themselves. With around 10,000 users, there's no doubt one will find them here.
Review: Login to the BDSMU.com Community
BDSMU, as you'll find out when you login, is a little different in comparison to even other sex dating sites. This is because they see themselves as more of a community than anything else… You can of course have regular sex dates here, however kink is very much on the cards!
When creating your profile, you can go into a lot of detail about what you're into. Don't forget to state whether you are a sub, dom or switch: these are taken very seriously by other members who want to know whether or not you would be a good match.
Features for Chat and more on BDSMU
Communicating with other users on BDSMU is quite easy with their features… This is because of the chat room they offer and, sometimes, there are multiple rooms depending on the topic. You can pretty much go on any time and have a look at who is there. Topics can range from all sorts, and you can even find out more about various BDSM events that are going on around the UK.
Of course, you're also able to chat to members one-on-one: just a send a private message. If you are going to meet up with someone, see if they have posted any videos on their profile. Keep in mind that these videos can be somewhat NSFW… So, be careful of where you're browsing on BDSM.com!
Premium Membership: Is BDSM Free?
BDSM is free in a lot of ways… Particularly when it comes to chat. However, in order to flirt fully and enjoy other features such as seeing who has looked at your profile, the best option is to get a premium membership. It's worth it as well, especially if you happen to use the site regularly.
BDSMU.com - Costs:
Sign up for free and enjoy features such as the chat room and limited communication.
For full communication and unlimited flirting, prices for subscription start at £6.99/month.