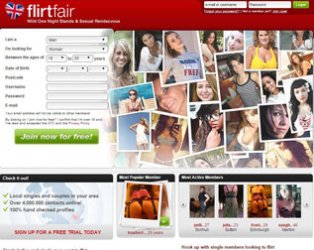 FlirtFair.co.uk review 2021:
Operated by HQ Entertainment Network GmbH, FlirtFair.co.uk has 4 million members from a number of other English-speaking countries such as the UK, Canada and the US. A chat and flirt site, FlirtFair is also a place for people who are also looking for adult dating. As a result, you will be in a lot of luck if this is what you're after. 
FlirtFair.co.uk: The Casual Dating Site
From the get-go it is clear to see that FlirtFair is a casual dating site. Whether you sign in as a man or a woman, and no matter what your preferences actually are, you will be given access to and approached by a number of ladies. While this can be quite encouraging at the start, it may not be what everyone is looking for.
What is interesting to note is that messages will be sent to you after you start browsing around for a while. These messages are somewhat flirty in nature and come from supposedly real contacts. One thing, however; most of the messages we received were formulated and had clearly been written by a robot.
A word of advice: the first 1-3 pages of the search results will display robot profiles. To get to the real people, look a little farther down the line. If you are interested in finding more real users, make sure to check out our other adult dating sites.
Customer Service on FlirtFair
If you do have questions about FlirtFair.co.uk, do not be afraid to ring their customer service team on the toll-free landline. Search options at Flirtfair are also pretty comprehensive: you can search based on a range of different factors from whether you're looking for one person, two or a couple.
FlirtFair Features
One thing FlirtFair does make quite easy is the way you flirt with its various features. You can send virtual 'gifts' to potential matches. This is a good ice breaker. A number of chat rooms are available for flirters as well which follow various themes, such as 'London dating'.
You are not limited by distance or country at FlirtFair. Anyone on the site is fair game, no matter where they happen to live. Other features this site has include 'Flirt Powers', which can help you boost your profile in search rankings.
For many of the features on FlirtFair.co.uk, male users need to pay. Female users do not pay a subscription here, however. Instead, they go through a system of purchasing coins. What is useful to know is that you get a certain amount of coins when you start out. There are also incentives on the site to get you to win more coins, such as through the use of their 'Sexy Slot Machine'.
FlirtFair.co.uk - Costs:
Setting up your account is completely free and you are given 'coins' when you start.
Women do not pay a subscription here, however.
Membership for men begins from

£14.90/month.