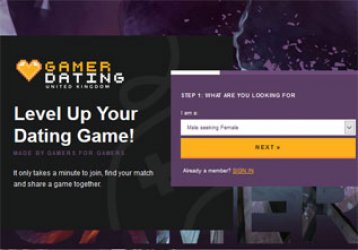 Gamer-Dating.com review 2021:
If you're a gamer who wants to date a gamer, Gamer-Dating.com could be a good platform to meet other UK singles who like gaming. The site is still small with around 55,000 members in total, however due to the popularity of video games you may find a few surprises. Some may even consider this to be a kind of nerd or geek dating, however nerds and geeks aren't the only ones who like gaming!
Our Review: Gamer-Dating!
A lot of people love video games so it makes sense that Gamer-Dating exists! That's what our review found, anyway. The concept does seem to make sense, since there is nothing more romantic than doing something you like! And it also makes for great date ideas and discussions (though we'd recommend that you first meet in a public place!).
Gamer Dating UK: What about features?
At the moment, Gamer Dating appears to be quite sparse for the UK in terms of features… There is a chat room where you can talk to online members, though. This is probably a good idea to try out at first as you can get a general feel for the platform. If you feel that your skills are a bit rusty when it comes to finding a romantic counterpart… well, don't fear. There's even a dating tips section!
Profiles are also very detailed on Gamer-Dating.com, so you can pinpoint exactly what your deal breakers are and what aren't. Don't forget to mention a few things about the sort of games you like… it'll help you to make a better connection!
Mobile: Is there an app for Gamer Dating?
At the moment, Gamer-Dating doesn't seem to have an app of any description, which is a pity since a lot of gamers do like dating on the go! However, it is possible to use it on your smartphone or tablet as the mobile version of the dating site isn't too bad. So that's an okay option.
Gamer-Dating.com - Costs:
For chatting and flirting the chat room, you don't have to pay a penny. You're also able to create a detailed profile.
If you really want to get to know someone and enjoy unlimited communication then subscription prices start from £6.88/month.