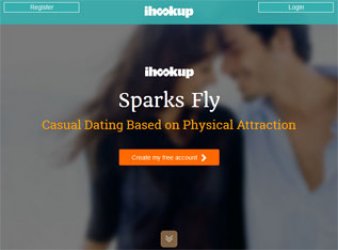 iHookup.com review 2021:
Physical attraction is the name of the game on iHookup.com: singles are looking for other hot, attractive members who want to, quite literally, hook up. So, this is very much a casual dating site. And yes, looks are very much the most important thing here, however: beauty is in the eye of the beholder, so you will find all sorts of carnal desires among the 5,000 users.
Review of iHookup.com for the UK
For our review of iHookup for the UK, we decided to login first and see what you could do. It all starts off pretty simple: you can choose what it is you're looking for (friends with benefits, "discreet" romance, general dating or even "online fun"). You can also choose what your status is (so even if you are "attached"… there are still people seeking the likes of an affair here).
In the iHookup.com members' area, you'll already see a range of profiles to choose from (depending on whether you chose to look for men or women). You can change these settings as well, if you like. Clicking on Hookups will show random profiles for you to connect with and get to know. Alternatively, you can simply search
Is there a mobile app for iHookup?
We had a look and there isn't a mobile app for iHookup unfortunately… They don't seem to have gotten around to making one yet. However, you can still use it on your mobile device: whether it be tablet or smartphone, you're still able to flirt and chat with others wherever you are. Both the mobile and desktop versions of the site are well equipped for this kind of flexibility, so it makes things a bit easier.
Features on the iHookup Dating Site
As a dating site iHookup offers a number of features to help you get to know other singles quicker. Simply Flirt options are there if you don't feel like writing a private message (although this always recommended…). The Live Chat section is like a big area where you can talk to multiple members and see what's going on. If you want, you can also favourite people and keep them on a list. Members can also send you Keys to unlock their private photo albums (which you of course have to ask for!).
IHookup also offers a number of premium features for those who want to go beyond a free account: Priority Matching means that your profile will be put to the top of the search results. So you'll get matched faster with singles whose tastes match your own. You can also send over 200 emails per day.
iHookup.com - Costs:
Basic services like creating a profile, sending limited messages and searching for others are all free.
If you'd like to enjoy much more unlimited communication, as well as Priority Matching and more, subscription prices for premium membership start at US$9.99/month.