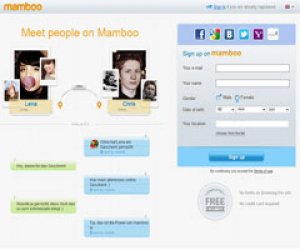 Mamboo.com review 2021:
Mamboo is a general purpose dating site aimed at singles all around the world and in English-speaking countries like the United States and the UK. It was launched in Russia as Mamba (now called Wamba), which has headquarters in London, Delhi and Moscow. Together, they have experience with over 100 million users. Mamboo on its own, however, only amounts to around 300,000 users scattered all over the world. In many ways, it can be compared to a lesser-known version of FriendFinder.
Experience on Mamboo
Our experience during the Mamboo test was that the site was somewhat clean, modern and very minimalistic  with regards to design. The sign up process is also quite quick and simple, as well as free. This means that you can be set up on the website and chatting to other singles within minutes. After you sign up, you can also change your preferences as you search by selecting men, women or both.
You can also expand your profile so as to give other singles a more rounded view of your person. Some of the questions asked are a little bit strange, such as 'What is your idea of ultimate happiness?'. Looking for singles will have to be done yourself by putting in certain criteria as this is not a matching site.
Features Found on Mamboo.com
Like most dating sites, Mamboo gives singles lots of features. There is obviously a search option as well as a messaging function, the ability to put your profile in the top rankings and photo albums. If you want, you can also take advantage of the extensive blog features. When it comes to searching, there are advanced options that allow you to make a more detailed search. Try not to be too specific, however. Due to the low number of members on the site, you may end up with very slim results depending on where you are.
Most of the features on Mamboo are free. One of the nice things about it is that they do not charge you to speak with or contact other people. Hiking up your visibility, however, is going to cost you.
Upgrading at Mamboo
A lot of dating sites like Mamboo.com tend to require an upgrade for you to use their more advanced features. Here, however, things are a little bit different. Instead of using the normal subscription method, Mamboo members are required to buy 'credits' in order to spend on the features they use. In some ways, this ends up as being a much more cost-effective method especially if you do not use the site that often.
Mamboo.com - Costs:
Payment is only necessary for activities beyond chatting.
Virtual coins from: €5.09/5coins.