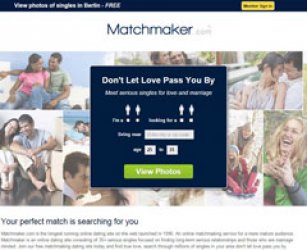 Matchmaker.com review 2021:
By 1998 Matchmaker.com was a fully-fledge online dating service. Most of the singles on this site are older, being over 35. However, there are also many users under 35 on the site as well. In general, around 500 people login every day.
The main purpose of Matchmaker in the UK is for people on the hunt for a long-term relationship... and possibly even marriage.
Sign Up with Matchmaker.com
The sign up process on Matchmaker.com is quite simple. Just put in your area code and type up a few details about your character. You don't need to upload a profile photo off the bat (though it is recommended!). You can also pick specifications and details about the kind of partner you're looking for. We would recommend, however, to avoid being too specific.
After signing in, you can navigate the site to your heart's content. There are lots of different kinds of singles to look at and the quality seems quite high. Though it appears somewhat old-fashion, using the site is so easy it can be worth it.
Matchmaker Features
Matchmaker's features are pretty basic but get the job done. You can:
Send and receive messages.
See how many people are currently online.
Even choose a language to use the site in: Spanish, Portuguese and English.
There is a handy instant messaging chat feature.
It can be difficult to think of something to start talking about. This is where the show interest button comes in handy. This simply helps to get things off to a start!
The Gold Account on Matchmaker
There are a variety of price levels if you choose the Matchmaker Gold Account. You can normally give it a go for a month, however that isn't enough time in our opinion. For a dating site like this, a good three months is necessary to see whether or not it is worthwhile. This is because of the amount of singles here: the supply is indeed low, however the quality is quite high.
Matchmaker.com - Costs:
You can create a profile, search and receive matches by email for free.
The full membership starts from US$29.95/month.