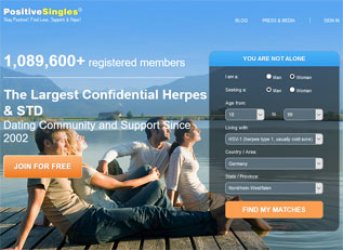 PositiveSingles.com review 2021:
PositiveSingles.com goes way back to 2002 and focuses on singles with STDs (sexually transmitted diseases). A large number of people already suffer from these illnesses and therefore find that dating becomes trickier due to the stigma that's attached to it. As such, PositiveSingles aims to provide a safe place for sufferers to come together and date (and hopefully find love).
Currently there are over 1,000,000 members on Positive Singles and numbers are growing. This is not only an online dating site, however: the platform is also designed to act as a supportive community for all members.
PositiveSingles: The Community & Resources
Positive Singles has a plethora of resources for singles who sign up to the site. There are regularly updated blogs about STDs - particularly regarding news in the area of medical research. Live dating advisors are also on call for those who may be unsure of how to go about the whole online dating business. Further services include:
STD Live Counselor: In the form of an online forum, members can post any questions they have and read answers from other users. You don't even have to link the post to your profile: the feature allows you to do it anonymously and you'll then receive an alert if someone answers it.
The online chat room is an easy way to speak to other singles online, get to know them and gives the whole site more of a "community" feel. The only thing you need to do is actually sign up up with PositiveSingles before using it.
A comprehensive list of STD care locations can also be found. Bear in mind that only a few countries and locations are featured, including South Africa, Australia, the USA, the UK, Canada and Brazil.
How Dating Works on PositiveSingles.com
PositiveSingles.com doesn't differ very much from a lot of other online dating platforms. The big difference is that it caters towards individuals who suffer from a variety of STDs, and helps to strip down the stigma as well as helping people at the same time – as well as offering specially-tailored support features. Aside from that, dating here isn't very different. You can set up your profile on the desktop version of the site or via the iOS and/or Android app.
Extra Features for Premium Members
Upgrading your profile lets you boost your overall visibility (therefore increasing page visits and likelihood of being contacted). There is even a personal STD counsellor available which you can speak to via live chat or e-mail. 24-hour phone support is also available to premium members. Don't forget: a "quick exit" button is available for people who want to keep their access to the site on the down-low.
PositiveSingles.com - Costs:
It's free to sign up and use the chatroom.
For subscription and access to premium features, prices began at US$15.95/month.