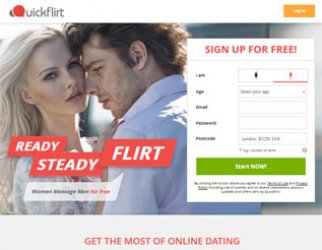 Quickflirt.com review 2021:
Quickflirt is all about flirting and getting to know as many singles as possible… after all, it focuses on the whole idea that dating is a number's game. Over 1,000,000 active monthly users are on the site and many more are still joining, especially in the UK. Thanks to location technologies, you'll also be able to find users who are close by.
The Quickflirt.com App: Dating on the Go
Dating on Quickflirt can be done via mobile: there is an app for Android, iOS and even Windows phones so you never have to be far from a potential date. This is a pretty logical step, considering most members are quite fast when it comes to chatting and getting to know one another. With such a fast-paced service, you'll probably want to be at the top of your game.
Our Quickflirt Review: What singles need to know
In our review we examined Quickflirt carefully to see just how beneficial it was to singles… and there were quite a few features that helped when it came to chatting and breaking the ice. A top-notch chat room allows discussion in real time and lets you flirt with several people at once. You can also send out a "standard" message to multiple people.
An internal messaging system lets you maintain private conversations as well. So you can pretty much get to know singles a little more personally and even arrange a meeting. Not necessarily a bad option in our book.
Upgrade Features on Quickflirt
While there are a couple of things you can do on Quickflirt for free (such as creating a profile and uploading pictures of yourself), there are a few features that will accentuate the experience. This is if you go for premium membership. You can choose a "Chataholic Pack" that allows unlimited communication (and also increases your profile visitors) as well as "Extra Security" which, naturally, is something you'll want to have.
Quickflirt.com - Costs:
You can sign up for free, create your profile and start looking for other singles instantly and free of charge.
For unlimited communication with Chataholic, prices start from £17.99/month.
If you want extra security then you can subscribe for £12.99/month.