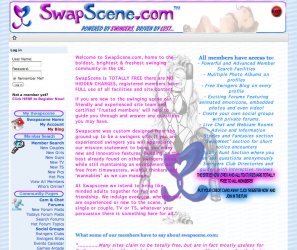 Swapscene.com (DEAD) review 2021:
Swapscene.com is a swinger dating site that came about in 2000. Back then it was originally known as Carl and Emma's Swapscene, but has since changed hands and been relaunched. It is a standard swinger dating site, aimed at both couples and singles interested in getting in on some action. The website design, though, still seems to be stuck in the 1990s. With around 40,000 members.
One thing we will say: due to the free nature of the site, we found it difficult to find 'serious' members. Unlike SDC.com, there were a high number of genital pictures which we found considerably off-putting.
Swapscene Login
There is a simple login process to Swapscene. You have to provide your usual details (email address, a password and a username) and then wait for an activation. This part doesn't last long. When you finally get to login to the site, you can then start to nose around and get a good feel for the place…
Experience at Swapscene
When we went onto Swapscene, there was a bit of activity. There do appear to be some members who are quite active on the site, whilst others seem to just sign up and then never go on the site again. This is a common experience at Swapscene and the number of profiles without a picture is a little discouraging. So it appears that many of the members are simply ghost accounts.
What Features Does Swapscene Have?
When it comes to features, Swapscene is quite rich and provides a webcam chatroom, a live chat service and even forums for you to discuss various swinger dating topics with other members. This can also be a good place to meet people. You can even create your own social groups, and enjoy a private forum. For those who are looking for a quick, short-notice encounter there is the SwapMeet section.
An advanced member search will allow you to find exactly the kind of kink you're looking for. There is also a member verification system, though our test turned up very few verified members in comparison to the number of registrations on the site. You can also use a Quick Exit button to avoid embarassing situations should someone walk into the room!
Is Swapscene Free?
Swapscene is completely free, and therefore relies on advertising to make up for the lack of membership contributions. As with a lot of free dating sites out there today, it may be difficult to find a partner who is as serious about their search as you are. Sites like SDC.com often have a higher calibre of member, usually those are more serious.
Swapscene.com (DEAD) - Costs:
Everything on the Swapscene site is completely free.