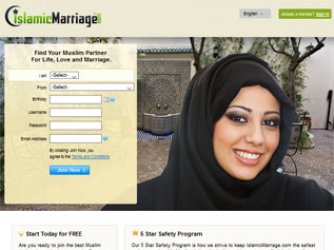 IslamicMarriage.com review 2021:
IslamicMarriage pretty much does what it says on the tin: introduces you to other Muslim singles who're looking for a partner to marry. While this isn't something that happens overnight, this platform aims to bring the most compatible people together (the factors here naturally being faith).
There appear to be around 3,000 singles in the UK overall.
Islamic Marriage in the UK
IslamicMarriage.com has been set up for UK singles who follow the Muslim faith and would like to find a partner who does the same. Whether you are a recent convert or have been following the faith your whole life, you can find that there are a whole range of options for people who are looking for a life partner. Profiles come with free text fields: so, you can describe your beliefs exactly, as well as your expectations.
IslamicMarriage.com Review: What to Expect
Our review of IslamicMarriage.com showed us that this dating platform was very much for those who want a specific type of relationship: namely, marriage. For many it is important to find someone of the same faith, and Islamic Marriage is no exception. The site itself is set up very much in the same way as any other personals site: you can flirt and chat with other singles, read profiles and see what you might like.
So, unlike a lot of other Islamic dating sites focused on marriage, it is much more relaxed. In addition, you don't have to restrict yourself to the UK when searching. You can also go far across the borders and look in other countries.
Dating and Getting to Know Singles on IslamicMarriage
When it comes to actual dating and interaction on Islamic Marriage, communication features tend to be somewhat basic but effective. Private messaging means you can just message people straight away, whether you search for them yourself or see them in the members' area (singles tend to pop up here regularly, especially newly registered ones).
Alternatively, you can go into the chat room and talk to others. Talking about various topics is a good way of getting to know people on Islamic Marriage and will show you whether or not your beliefs and expectations line up exactly.
IslamicMarriage.com - Costs:
You're only really able to sign up for free.
If you want to do more such as communicating, chatting and getting more visitors then subscriptions to "platinum" start from £17.28/month.