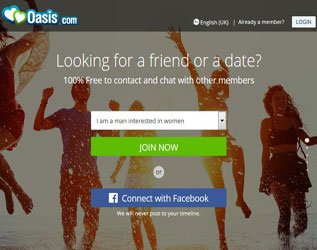 Oasis.co.uk review 2021:
Oasis.co.uk operates very much like FriendFinder, working as a social network as well as a dating and matchmaking site. Friendship, casual dating and the search for love are all pursued here. Boasting 16 million members worldwide and available in several languages, it is run by the 3H Group Ltd and claims to have around 300,000 new members joining every month. As well as being available in the UK, Oasis also works internationally.
During our Oasis.co.uk review, we did notice that there are a lot of ghost profiles. This is something we've noticed on free sites.
Your Dating Profile at Oasis.co.uk… Where to Begin?
As with most dating sites, you simply need to create an account on Oasis. In fact, you can just sign in with Facebook if you don't mind simply duplicating your profile there. Once you're on, you need to start filling out your dating profile. On Oasis, make sure to be precise: state who and what you are looking for, what sorts of views you have on marriage etc. There is a very long and specific checklist you'll have to go through, but it will help to bring a more accurate picture of your result. For example, you can choose to match only with people who live in a specific area or speak a certain language.
Oasis Features
Oasis features are straightforward: once you have set up your account and your specific preferences, you can start uploading photos to your gallery, read news, use the instant messenger, participate in opinion polls and enjoy the benefits of automatic matching and the Oasis safety features.
Browse through your matches and see who you might like: if you find someone who grabs your attention, you simply have to click 'Like'. The other person will have three days to reply. If they like you back, you'll be notified, added to the contact list and can start chatting on IM. Should problems arise, you can contact customer care under 'Contact Us', but remember to read the FAQs first!
Another unique feature is the Shout Out, which can be sent to your first 1,000 matches in order to boost your profile. If you feel like avoiding contact for a while, there are features on  Oasis.co.uk to set your status to Away, Invisible or Do Not Disturb. You can also see who has set their profile to Online.
Oasis.co.uk App
Oasis.co.uk is also condensed into a handy app version. This Oasis application carries out all the same functions and can search your area and see what matches may just be around the corner from you. Available for both iOS and Android, it can be downloaded for free from either iTunes or the App Store.
Oasis.co.uk - Costs:
Oasis dating is 100% free.
---
Frequently Asked Questions: