One of our recommendations in the category
"Gay dating":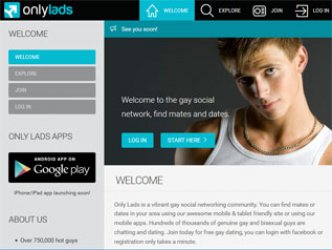 OnlyLads.com
Welcome to the gay social network, find mates and dates.
Link: www.onlylads.com
OnlyLads.com review 2021:
OnlyLads.com is a gay dating site for gay and bisexual UK men. It is probably one of the biggest free dating sites aimed at LGBT men in the United Kingdom. With around 750,000 members, the site claims to be completely "gay owned and operated".
The site doesn't just focus on dating: it can also be seen as a social network and is also great for guys who just want to make new friends.
Before You Login to OnlyLads
Before we decided to login, our impression of OnlyLads was that it was well-designed, clean-cut and relatively classy without being too prude. We didn't even have to sign up to take a look at the members. Clicking 'explore' allowed us to have a look at guys around the world. Overall, it is a rather transparent site.
The OnlyLads.com and App
Although it took a while in the making, the OnlyLads app is now finally up and running. The app is unfortunately only available for those with Android tablets and phones. Operating in a similar manner to Grindr, the OnlyLads app looks very much like the desktop version of the website making it quite easy to use.
Features of OnlyLads
Features are probably where OnlyLads is its most lacking. There are simply a couple of essentials available. What is nice, though, is that they were free and easy to use. They included:
A free chat and messaging function. We could start chatting and communicating as soon as we logged on!
You can also upload a public and a "locked" album, allowing you to choose what photos other users see.
"Just Joined" lets you see the newest members, and you can add both friends and favourites to your profile so you don't lose track of anyone.
In Conclusion…
While the layout was nice, we found OnlyLads to be sorely lacking in features beyond communication. As well as that, there were significantly lower numbers of guys even in some large urban areas. We mostly got the impression that people signed up, created an account and then left after a while.
OnlyLads.com - Costs:
Signing up and chatting is free.
You can get a premium membership which starts from £5.95/month.